It is our pleasure to announce the official release of NETAVIS sMart Data Warehouse 2.0!
NETAVIS sMart Data Warehouse collects and stores data from diverse data sources, including iCAT Video Analytics, and transforms it into key performance indicators. Individually created sMart Dashboards provide user-specific information at a glance while scheduled and password protected PDF reports deliver the required key performance indicators conveniently into the decision makers' inboxes. For business analysts sMart Data Analytics offers versatile options to compare and analyse all available data in detail.
Check out the NETAVIS sMart Data Warehouse 2.0 Introduction Video

With the newest version 2.0, sMart allows for the visualization of information (frequency, unique visitors, and returning customers data) on maps or images such as floor plans. It thereby enables an easy understanding of frequencies within a shop, as well as a quick comparison between different streets across a city or shops within a region.

Two new dashboard layouts were designed specifically for the better visualization of maps or floor plans together with two related data sets.

Furthermore, the configuration of opening hours is much more flexible in sMart 2.0, and the compatibility and handling of integrated data sources has been enhanced. In terms of system operations, an option to check the license status was added and SMTP configurations are improved.

More detailed information about this newest release is available in the sMart 2.0 Highlights sheet.
We are happy to assist with your first installation. Request the sMart Data Warehouse download here! If you would be interested in a version for
Windows OS, please click here.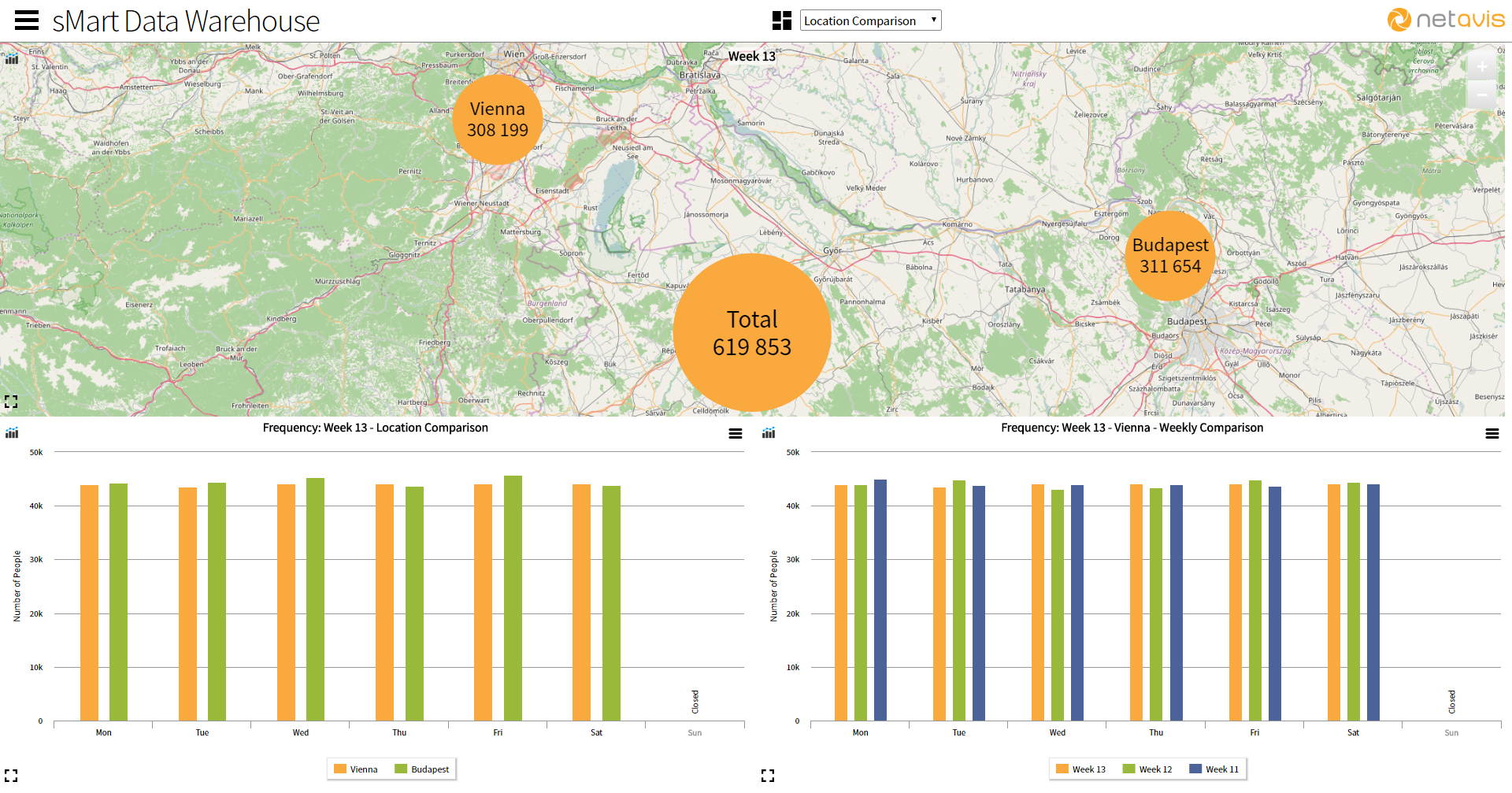 Check out the Online Demo with all the new features of sMart Data Warehouse! Use demo as user and password, for the Online Demo in German language, please use the user: demo_de. You will be able to see pre-configured sMart Dashboards with examples of maps and floor plans. Additionally the sMart Data Analytics section (available via menu, click top left corner) allows for an in-depth analysis of the simulated data. In the Online Demo, we use dummy data since June 2016 (NPR since August 2016).


To see all configuration options as an admin, you can also request a demo license to test and use sMart Data Warehouse for 1 month. The new price list is also available, please contact your partner manager.

We are looking forward to receiving your feedback. For further release and product information, please contact us at info@netavis.net.