It is our pleasure to announce the latest release of NETAVIS sMart Data Warehouse!
The newest updates includes a Heat Maps cropping feature for easier stitching on maps, as well as various bugfixes.
NETAVIS sMart Data Warehouse collects and stores data from diverse data sources, including iCAT Video Analytics, and transforms it into key performance indicators. At a glance, each user is provided with user-specifically tailored information for sound decision-making. All data can easily be compared and analyzed for deeper business intelligence. Flexible system operations and diverse customization options make sMart adaptable to various customer needs.

With sMart Data Warehouse 3.0, heat haps created by NETAVIS iCAT can be overlaid on floor plans, camera images, and other images of a location in sMart Dashboards, Data Analytics and Reports. Thus, customer frequencies and customers' behaviors (count, stops, stopping time, speed) can be monitored and analyzed in an intuitive way.

Furthermore, it is now possible to configure locations with multiple identical data types, e.g. for measuring customer frequencies in several areas within a single shop.
| | | |
| --- | --- | --- |
| | | In order to provide more context for data and document e.g. sales offers or construction works, it is now possible for authorized users to add comments to specific days or longer time periods in sMart |
The configuration and management of maps has been made more powerful and flexible. All spots on a map are now shown in a dedicated list, spot configuration is shown below the map itself, and spots can use uploaded images as their shape (e.g. directional arrows), allowing an even clearer visualization of data such as frequencies at combined entrances/exits or within a shop's aisles.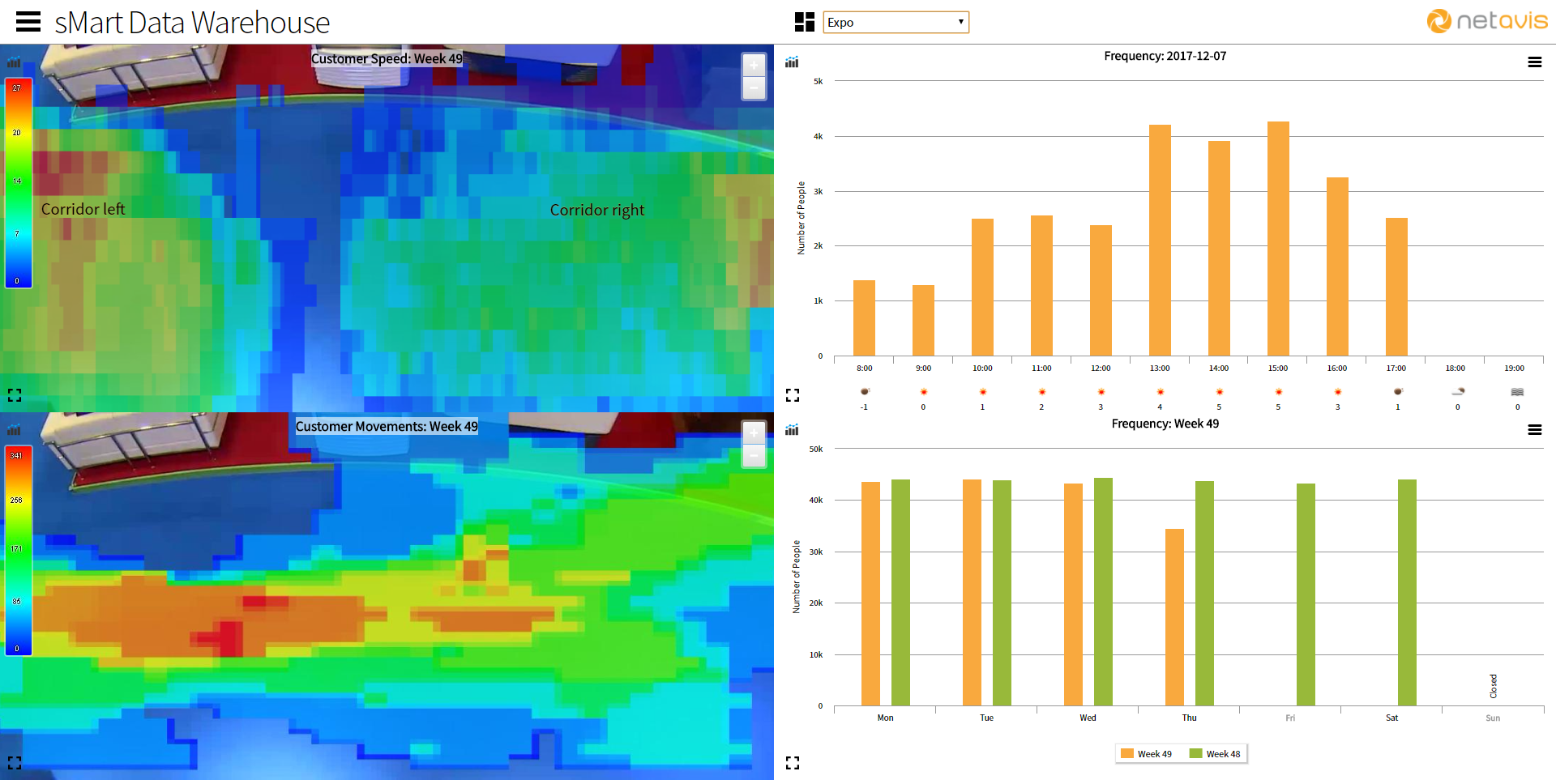 sMart Data Warehouse 3.0 also features various improvements on the system operations level. Missing or wrong data can now be corrected with average values previously collected by the malfunctioning sensor or by adjusting the compensation parameter for historical data, dashboards can be configured to auto refresh every minute, and the system manager has been improved.
Download:

You can download the following versions from our FTP server:

We are happy to assist you with your download and installation, please contact smart-support@netavis.net for any assistance.

Documentation:

sMart Datasheet - Introduces sMart Data Warehouse with Dashboards, Reports and Data Analytics.
sMart 3.0 Highlights - Describes the new functionalities in the latest sMart Data Warehouse release.
Installation Guide - Explains how to install, update, and maintain sMart systems.
Configuration Guide - Offers a detailed description of how to configure a sMart system in German language.
sMart Sensor Integrations - Provides detailed information on the sensors supported by sMart Data Warehouse.

Check out the Online Demo of sMart Data Warehouse 3.0 as a demo user (English user: demo, German user: demo_de, password: demo)!
To experience all configuration options as an admin, we invite you to request a demo license.
We are looking forward to receiving your feedback. For further release and product information, please visit our website or contact us at info@netavis.net.