Details

Category: Release Ticker
Published: Monday, 16 January 2017
sMart Data Warehouse 1.3 - OUT NOW!
It is our pleasure to announce the official release of NETAVIS sMart Data Warehouse 1.3!
NETAVIS sMart Data Warehouse contextualizes security and business data to provide user-specifically tailored information for each user and the tasks at hand. The professional Data Warehouse technology and elaborate interfaces transform mere data into vital key performance indicators. Individually created sMart Dashboards provide user-specific information at a glance while scheduled and password protected PDF reports deliver the required key performance indicators conveniently into the decision makers' inboxes. For business analysts sMart Data Analytics offers versatile options to compare and analyse all available data in detail.
This next step in the evolution of IP video, NETAVIS sMart Data Warehouse 1.3, is immediately available to be hosted on the customers IT infrastructure as software, just like NETAVIS Observer with iCAT. Alternatively, a cloud solution of sMart Data Warehouse is provided. Both deployment options are already implemented successfully in various projects.

With the newest version 1.3, sMart adapts even better to different customer projects. Opening hours, comparison periods and frequencies are now even more customizable. Also the user experience, especially on mobile devices, is further improved: swipe and click functions allow the user to navigate easily through information and sMart Dashboards, also in the new full screen mode.

Furthermore, the average value of the currently displayed data can optionally compliment the information. sMart PDF Reports have been extended with Outgoing Frequencies and Turn-In-Rates. For better system operations, system events, logs and backups have been improved.
Flexibility and the customer's freedom to choose and combine different system components are of highest importance for NETAVIS Software. Therefore, the version 1.3 of NETAVIS sMart also supports 3D sensors of the Berlin technology company HELLA Aglaia as data sources. Already since its first release sMart Data Warehouse includes not only NETAVIS Video Analytics modules but also light sensors of NOVATEC as well as 3D sensors of XOVIS and VIVOTEK as integrated data sources.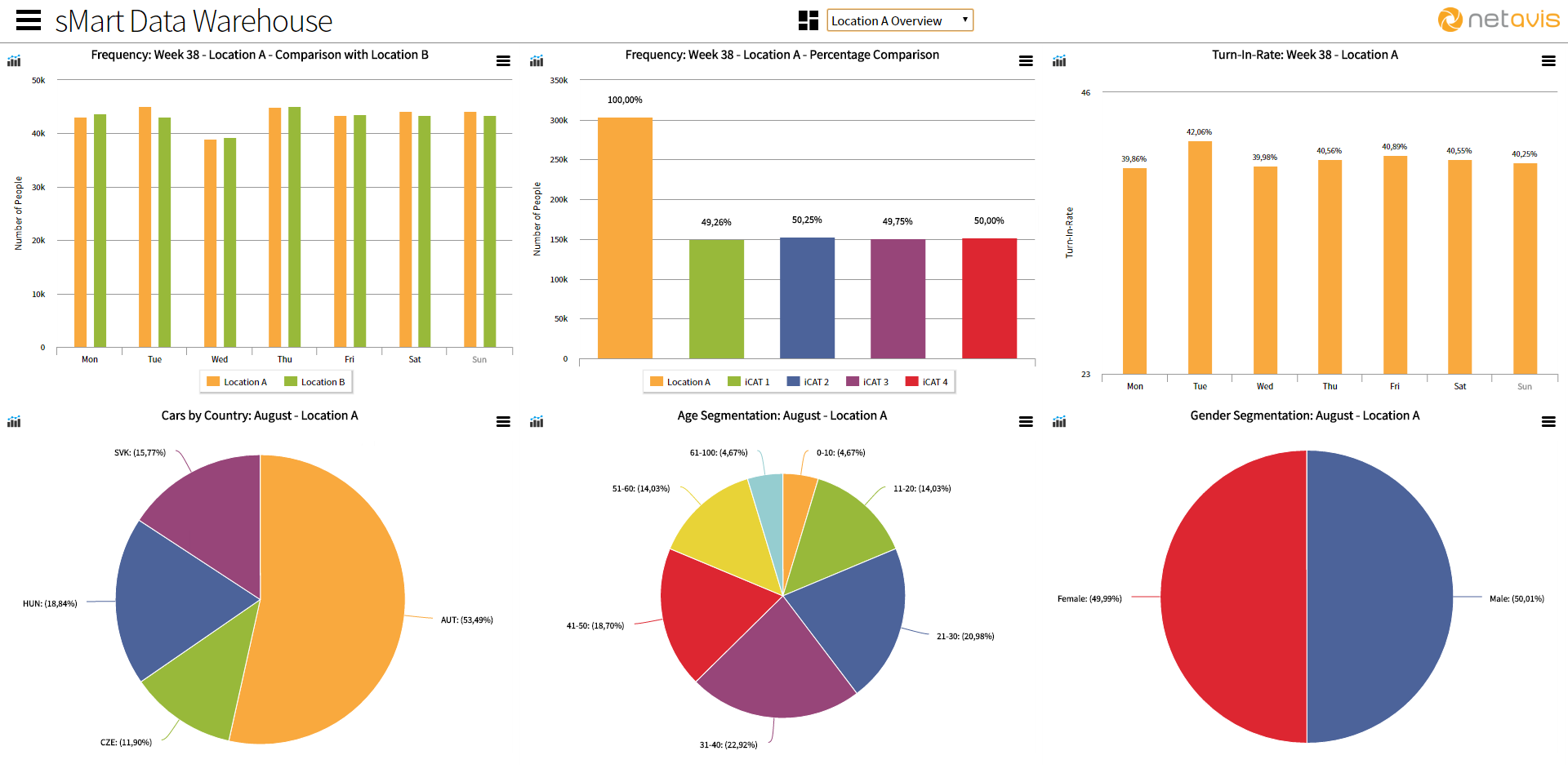 Check out the Online Demo of sMart Data Warehouse! For the Online Demo in German language, please use the user: demo_de. You will be able to see four pre-configured sMart Dashboards with examples of customer frequency and customer segmentation data as well as the new 1x1 view and the added average, and the newly applied opening hours from 8am to 8pm with closed Sundays. In the Online Demo, we use dummy data since June 2016 (NPR since August 2016). Additionally the sMart Data Analytics section (available via menu, click top left corner) allows for an in-depth analysis of the simulated data.


To see all configuration options as an admin, you can also request a demo license to test and use sMart Data Warehouse for 1 month. The new price list is also available, please contact your partner manager.




We are looking forward to receiving your feedback. For further release and product information, please contact us at info@netavis.net.